There are a few different zapier options available on the market today, and you may be wondering which one is best for your business.
Pabbly Connect and Integrately are both great alternatives that offer better pricing and more features than many of the other options available.
So, which one is right for you in pabbly connect vs integrately?
Let's take a closer look to help you understand the difference.
What is Pabbly Connect?
Pabbly connect is a cloud based web app which provides the ability to integrate different different softwares by managing the data workflow automation smoothly for online businesses and startups by reducing manual efforts.
Pabbly Connect is more affordable than many of the other options available, and it also offers a few additional features which may be beneficial for your business.
The most important thing which makes pabbly connect better in comparison with not only integrately but with all other compatitors is, it offers all internal task 100% free.
Isn't it amazing!
Pabbly connect makes the automation workflows feasible and easy way process which used by online businesses and startups today to get relief from regular manual efforts.
Pabbly connect helps in bringing consistency to the organization and it also gives you a relief from tedious daily work unlike most of the one common structured solutions which doesn't offer this option.
Once you will start using pabbly connect, then you will feel that it doesn't require any kind of technical experience.
So anyone can use this amazing automation tool easily without facing any complexity issues when you are running an online business or startup.
I would highly recommend to read pabbly connect review for understanding everything about pabbly connect.
Pabbly Connect Pricing
When you are looking for the comparison between pabbly connect vs integrately then I am sure you will consider the pricing as an important factor before taking the final decision.
And it should be an important factor because you will pay your hard earned money to get the service.
Pabbly connect introduced super affordable pricing plans which are perfectly suitable to all type of online businesses.
Pabbly connect offers a free forever plan with limited features and other three paid plans which includes different limits.
The good news with pabbly connect pricing is, you can easily save upto 50% extra on all regular plans.
To understand how you can save more and which plan is suitable for you, then read pabbly connect pricing.
Let's see the pabbly connect regular monthly pricing plans-
If you are using any other software for building automations in your business, I can assure you with the fact that you are paying more than what pabbly connect will charge you.
The reasons are-
Triggers are free
Internal tasks are free
Deep integration to save tasks in complicated automations
I am sure you loved the pabbly connect monthly pricing because it's so cheap.
But I really want you to get more excitement because pabbly connect is offering more discounts.
If you will pay for at least one year then you will get the pricing listed below-
It's actually 30% cheaper than the regular monthly pricing.
Want to save more…!
Everyone love to save more.
Well if you will pay for two years then you will get 40% discount on the regular monthly pricing.
You can check the 40% discounted pricing below-
What if I tell you that you can save 50% on the regular monthly pricing of pabbly connect!
I am sure you will love to get it.
If you will pay for 3 years then you will get 50% discount as mentioned below-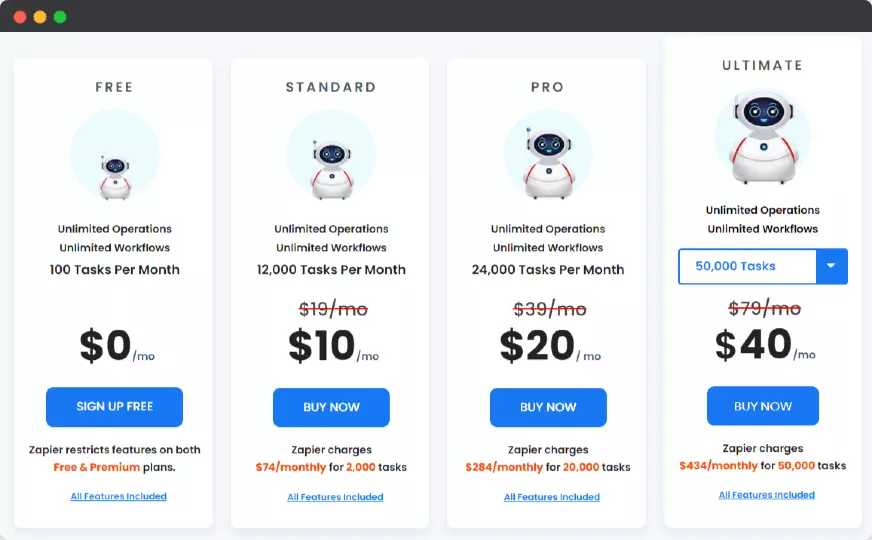 Based on the pricing plans of pabbly connect I shared, you may have noticed that the three years plan is the one which can help you to save extra 50% on any plan.
Pabbly Connect Pros And Cons
Pros
900+ apps integrated from the date of official launch
Super active public forum
All internal tasks are 100% free in all plans
Affordable pricing plans
10+ internal apps to make workflow easier
Folders to organize the workflow automations
Share automation workflow as template from one account to another account
Invite unlimited team members (in all plans)
Clone the workflow in just one click
Mathematical operations can be done
1000+ video tutorials available
Very fast in fixing bugs and improving the integrations
Founders are very much active on social media to interact with users
Cons
No live chat support
No autosave in workflows
No auto-retry for failed task
No carry forward of unused tasks
What is Integrately?
Integrately is as same as pabbly connect and zapier for setting up the automation in online small businesses.
Integrately is a very strong competitor of pabbly connect and hence there are a lot of features common in both automation softwares but keep in mind that there are a few unique features in both which create a big difference in the selection.
Integrately is a product of CompanyHub IT Solutions Pvt. Ltd. (incorporated on 30th May 2015 in India) launched in Q2 of 2020.
Although it doesn't show that they are competing with pabbly connect but yes it's one of the competitor.
Integrately is focusing to grab the attention from users of zapier which is the most famous (and expensive too) integration software with 4200+ apps integrated inside the platform.
In terms of user interface, I accept the fact that it's impressive and so easy for anyone even if you are trying it for the very first time.
All you need to do is just select the automation from the recipe and activate it.
That's it.
Setting up the automation is now just a small task as click of a button to get it ready.
It has integrations above 800 apps including google drive, dropbox, Facebook, slack, activecampaign, UpViral, moosend, klaviyo, manychat, shopify, woocommerce, nexweave, hyperise, clickfunnels, razorpay, stripe etc in almost 2 years if timeframe.
Isn't it amazing for your business automation!
I am sure you are impressed now with integrately.
Integrately Pricing
In this comparison between pabbly connect and integrately, I am sure you would curious to know the pricing plans of integrately too.
Let's see the integrately monthly pricing-
Based on the pricing, the limits and features are impressive.
I am sure you will feel that the integrately offer is so amazing for all businesses.
If you are planning to save more on the above listed pricing, then you can go with integrately yearly pricing plans where you can save upto 20% on any plan.
The yearly discounted pricing plans are listed below-
The yearly pricing is really affordable even for new startups and small businesses as it's starting from $19.99/month (when paid yearly) only.
Integrately Pros And Cons
Pros
Live chat support (excluding weekends and public/local holidays)
800+ apps integrated
Affordable pricing plans
Many internal apps to make workflows more efficient
Folders to organize the automations
Team member to manage workflows
Clone the automation
Mathematical operations can be done
Auto-retry for failed task
8 Million+ Ready Automations For 800+ Apps
Cons
Internal tasks is not free
Integrations doesn't work so many times (personal experience)
No dynamic input field in schedular / delay feature
Team member feature is available in growth and business plan only
Less tutorial videos available
No autosave in workflows
No carry forward of unused tasks
Comparison : Pabbly Connect Vs Integrately
We know that pabbly connect and integrately both softwares are full focused to serve the solution in workflow automations.
And most of the features are almost same.
But there are a few differences which I want you to see before thinking to buy anyone of these.
Let's see how they are different than each other-
| Feature | Pabbly Connect | Integrately |
| --- | --- | --- |
| Free Plan | ✅ | ✅ |
| Task Allowed In Free Plan | 100/Month | 200/Month |
| Internal Task | 100% Free | Count |
| Team Member | Includes In All Plans | Includes Only In Growth & Business Plan |
| Inbuilt Email Parser | ✅ | ❌ |
| Date & Time Formatter | ✅ | ✅ |
| Number Formatter | ✅ | ✅ |
| Extract Text By Pattern | ✅ | ✅ |
| Text Formatter | ✅ | ✅ |
| Filter | ✅ | ✅ |
| Schedule/Delay | ✅ | ✅ |
| Dynamic Schedule Delay | ✅ | ❌ |
| JSON Extractor | ✅ | ❌ |
| Currency Converter | ✅ | ✅ |
| Counter | ✅ | ❌ |
| Automation Workflow Length | No Limit | No Limit |
| Folders | ✅ | ✅ |
| Starting Monthly Price | $19 | $29.99 |
| Yearly Discount Plan | Upto 50% | Upto 20% |
Final Thoughts on Pabbly Connect Vs Integrately
Based on this blog post and the detailed comparison table, I am sure you are able to take the decision for getting the better automation software from this battel of pabbly connect vs integrately.
As we can clearly see, the pricing and features both are great in pabbly connect so that the users can get more benefits in comparison with not only integrately but with any competitor in the market.
It doesn't mean that integrately is not good at all.
They also acquired thousands of paid customers in last 2 years.
But based on the comparison, I would suggest to go with pabbly connect.
Frequently Asked Questions
Which software is good in pabbly connect vs integrately?
As you can see in the comparison table, pabbly connect is more advanced and cheaper in comparison with integrately.
And personally I recommend pabbly connect in comparison with integrately.