The world is moving fast into online business operations and where this transformation of business nature has countless opportunities, the competition also exist in the same place.
To compete in the competitive market, many businesses are moving to viral marketing strategies to become the leader of the niche market.
And to perform viral marketing effectively, UpViral is the only software I always recommend to use.
In this UpViral Review article, I will cover all detailed insights including integrations, pricing, roadmap, success stories, features, pros and cons of this amazing software.
Let's get deep dive into this-
What is UpViral (By Wilco)?
Upviral is a cloud based referral marketing ease to use software designed to help you to launch ultimate viral campaign and get the best viral traffic from your published content.
It is one of the best thing in online marketing applications which lets you share your own content with the world (with unique referral links) and then Upviral shares it with its followers to get traffic fast.
UpViral launched in 2015 and it helped to 30000+ business owners to create viral marketing campaigns successfully in hundreds of different niches.
Watch the video below to see how UpViral can help your business to grow faster than your competitors.
The main problem in common marketing strategy is the competition and it's growing fast with technologies and different internet marketing channels.
To fix this problem, Wilco De Kreij launched UpViral.
He thought to reduce the marketing cost for lead generation on lead page and sales with the same amount of traffic we get from advertisement.
And if we can convert the traffic into our promotional weapons, then it will lead the brand over the competition in the market.
Imagine if you are getting 100 visits and 20 leads or conversion when you post your lead magnet on your Facebook profile only.
But you will be amazed to see if those 20 leads will bring you 50 visitors and 5 leads which is absolutely free for you without doing anything extra.
The only fact is, the viral campaigns should look like the leads will get an amazing reward in any form like giveaway, sweepstake or freebies for action takers.
That's how it works to expand your marketing potential through social media and referral marketing.
---
Whom Should Use UpViral?
It is a great tool for every business owner and blogger who wants to get more traffic from their content.
It can be used by all kinds of businesses like:
It's not only used by the big brands, but also small and medium size companies who want to grow faster in the market.
If you are someone who is planning to start a new business online or launching a product, then using UpViral could be a game changer for your launching event.
It will not only create a brand awareness but it will also help you to collect the data and content sharing on social media to get massive traffic easily with refferal marketing by upviral.
However, it is not a magic wand that will make your business grow overnight.
It's a long term strategy to increase the traffic and leads from social media which you can use as your promotional weapons.
You need to have patience and time to see the results, but with UpViral, you will be able to get the best results in a very short time.
Using UpViral, you can create multiple social media profiles and launch your content on each of them at any given time so that you could gain maximum benefits from it.
It's also important for all types of businesses to have a strong brand identity on social media so that they could easily get the attention of their target audience.
UpViral is also used by many bloggers and companies to improve their blog posts, product reviews, email list, youtube channel subscribers, instagram followers etc., as well as increase traffic from search engines with the help of UpViral .
It also helps to create a better brand image and increase the credibility of your business.
If you are looking for a way to get more traffic on social media, then UpViral is what you need because it will help you in getting all these benefits without any effort at all.
---
How You Should Setup & Use UpViral?
There are some key steps that you should follow to get maximum benefits from UpViral.
First of all, you should make sure that your goal is clear with the campaign you will launch with UpViral.
And then, you need to setup all social media profiles for your business.
Now you should prepare a structure of the UpViral campaign according to the goal you already decided.
I am mentioning a few proven goals which can get best results with UpViral campaign.
---
YouTube
Youtube is the most popular platform in the world for video content sharing.
You can use UpViral to increase the number of subscribers on your YouTube channel and get more views for your videos, which will result in better exposure and traffic from search engines like Google, Bing etc.,
UpViral helps you to create a strong brand identity by providing real social proof for your business.
UpViral support to create custom actions inside the campaign so the best actions for youtube channel could be following-
---
Facebook
Facebook is an amazing social networking platform where you can connect with your customers and get their feedback.
UpViral helps to increase the organic reach on Facebook page, which will help to improve brand awareness and credibility among your target audience.
You can also use UpViral for increasing engagement rate by using some interesting facebook campaigns.
UpViral provides you with the ability to create custom actions for facebook inside the campaigns so that your customers can get access to more information on your products and services.
I am listing a few amazing actions for Facebook which can be implemented inside UpViral easily
---
Instagram
We know the fact that Instagram is growing rapidly and it is one of the most popular social media platforms.
UpViral provides you with a lot of options to increase your brand awareness and credibility among your target audience by using Instagram actions.
You can also use UpViral for increasing engagement rate on instagram by creating a campaign focused to instagram.
I am listing a few amazing actions for Instagram which can be implemented inside UpViral easily-
---
Twitter
Twitter is the best social media network which helps to get business mentions and amazing PR.
Having thousands of twitter followers is such a huge achievement for anyone.
With UpViral, we can create the following actions to grow the twitter account fast-
---
Email Marketing
Now a days, email marketing is the most crucial part of businesses based on technology.
It's not only a channel for marketing or reaching out to existing subscribers/customers but it also helps to build brand.
Most people consider email automation marketing as just bombarding sales emails to subscribers in the hope that they will buy without a second thought on the email.
But reality is completely different from this common hope.
People buy values and solutions.
If the emails will not add any value or not give solution to anything, it will go to trash.
And people might unsubscribe and report to your email address for spamming.
To avoid such incidents in email marketing for your business, upviral can help to play with safety.
I am listing down a few amazing custom actions which can help to grow up email marketing potential for your business-
Note: Email reply tracknig, email forward tracking is not possible in all email marketing softwares. And to achieve this, I highly recommend to go with ActiveCampaign.
---
Ecommerce Marketing
Launching Ecommerce store is the growing business trend now in 21st century.
On black friday 2022, Shopify recorded average sales value of over $2.4M in a minute.
And by 2030, the ecommerce business will reach over the moon with help and support of growing technologies.
Right now upviral don't have native integration with shopify, woocommerce or any other ecommerce platform but ideally there is no end of ideas can be implemented with upviral in ecommerce business.
I am listing down a few amazing custom actions which always helps to boost sales in ecommerce business with upviral-
---
UpViral Features
UpViral is one of the best software in viral giveaways and referral marketing.
And hence it has a lot of super awesome features.
I wish I could mention all of them here but I don't know if I could cover all of them here.
I am listing down a few awesome features which helps most of the business effectively.
UpViral Coupon Automation System
UpViral has its own coupon delivery system which helps to deliver the coupon code for the users.
You can use this coupon on your website and provide them with amazing discounts.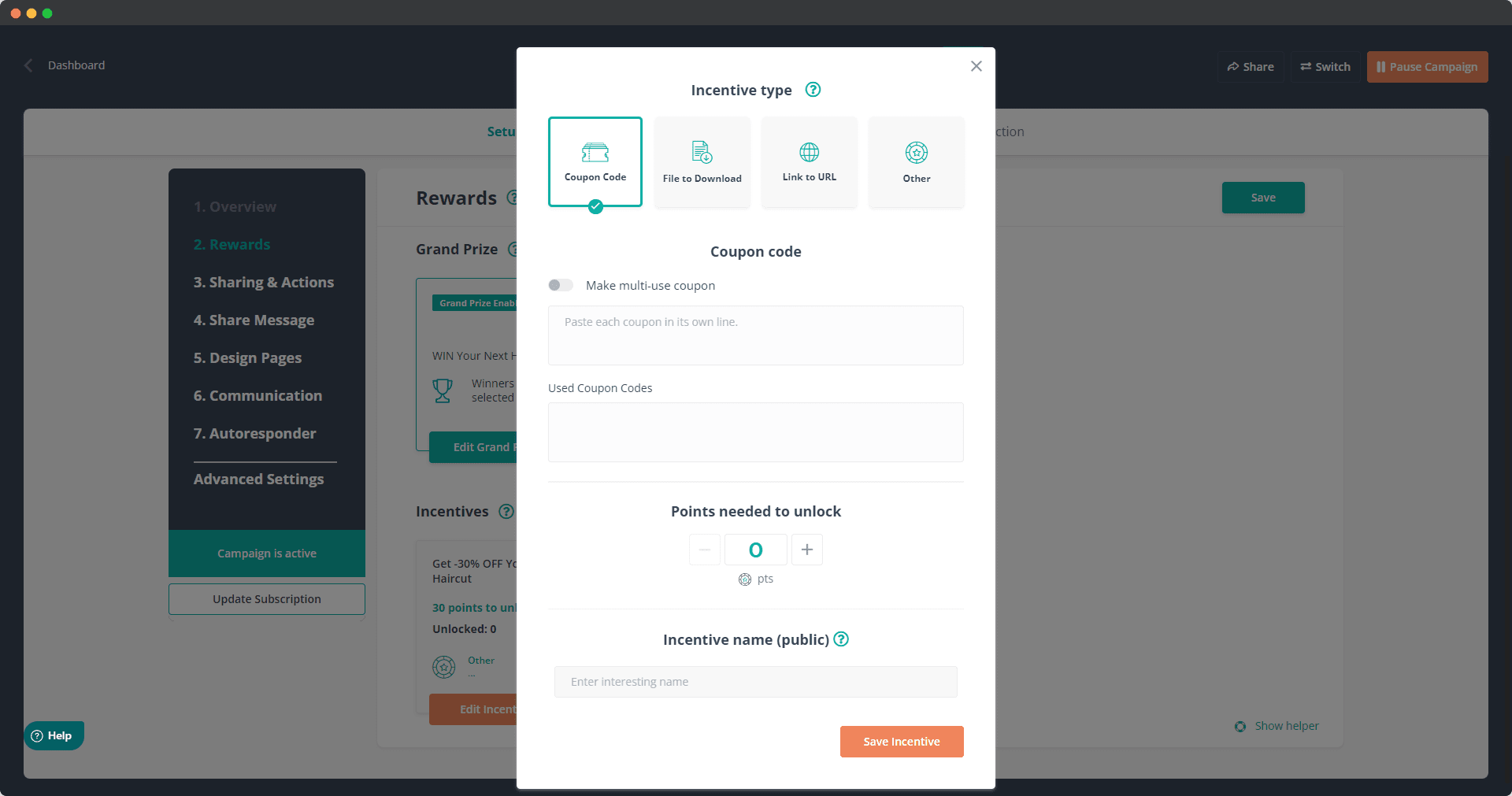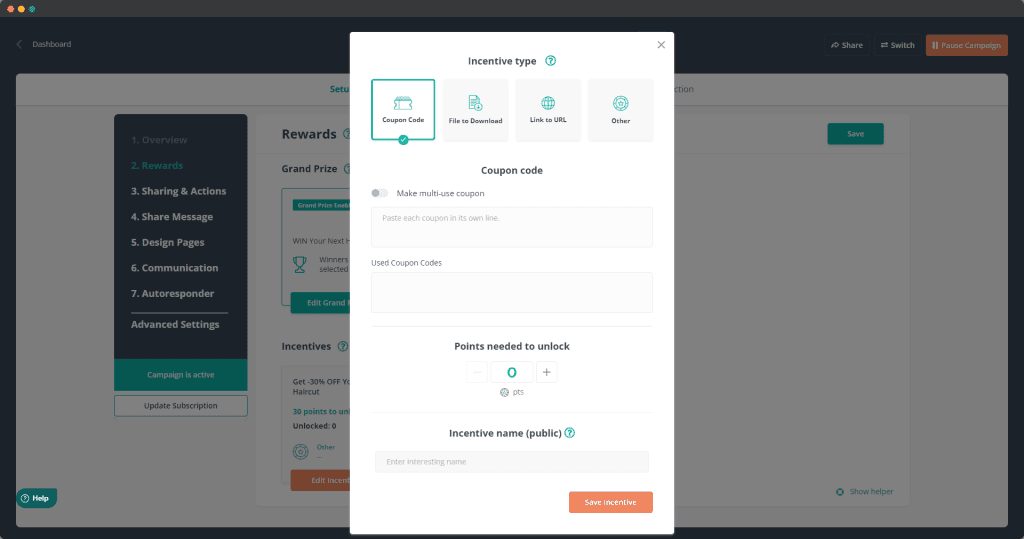 You can set a common coupon code or can upload multiple unique coupon codes in the UpViral and can attach them with the relevant reward.
This coupon will be delivered by UpViral to user's registered email address whenever they will achieve a milestone to unlock the reward of the coupon code.
This reward system helps to retain the customers again and again to get more recurring sales easily.
---
Retargeting Pixel Tracking
Allowing to add third party tracking script is the most important feature of any software out there.
And UpViral supports us to add as many tracking scripts as we want to get fired on own landing pages when loading.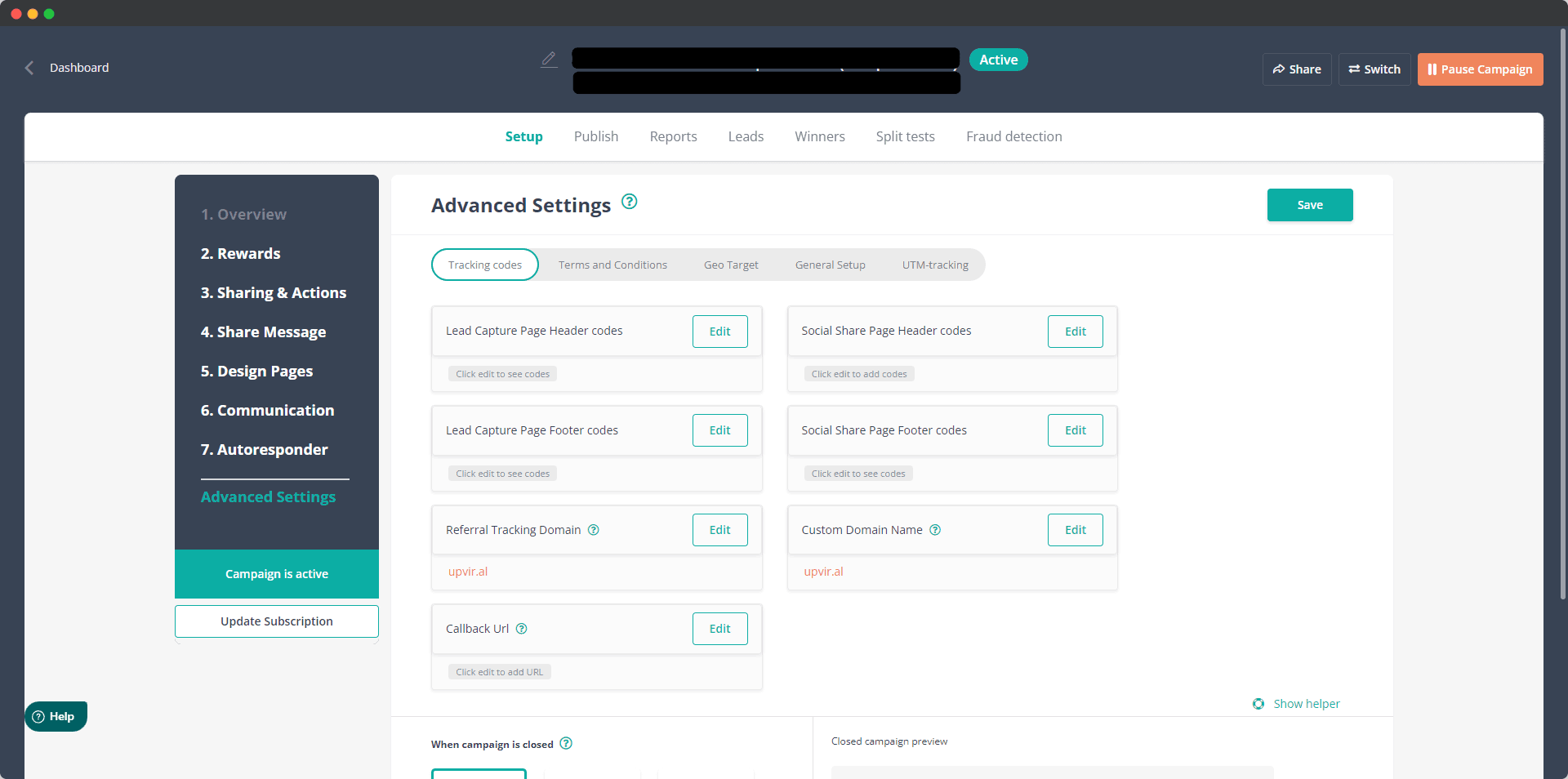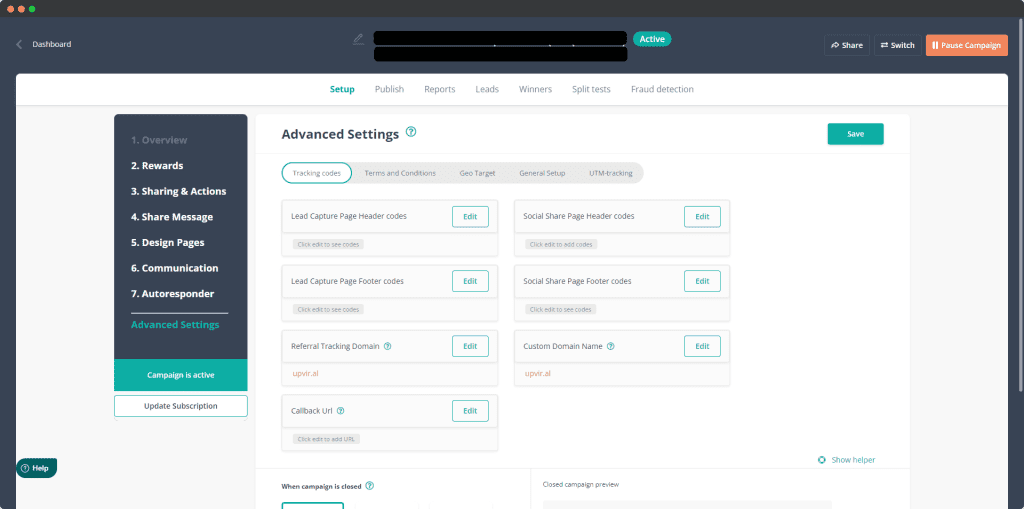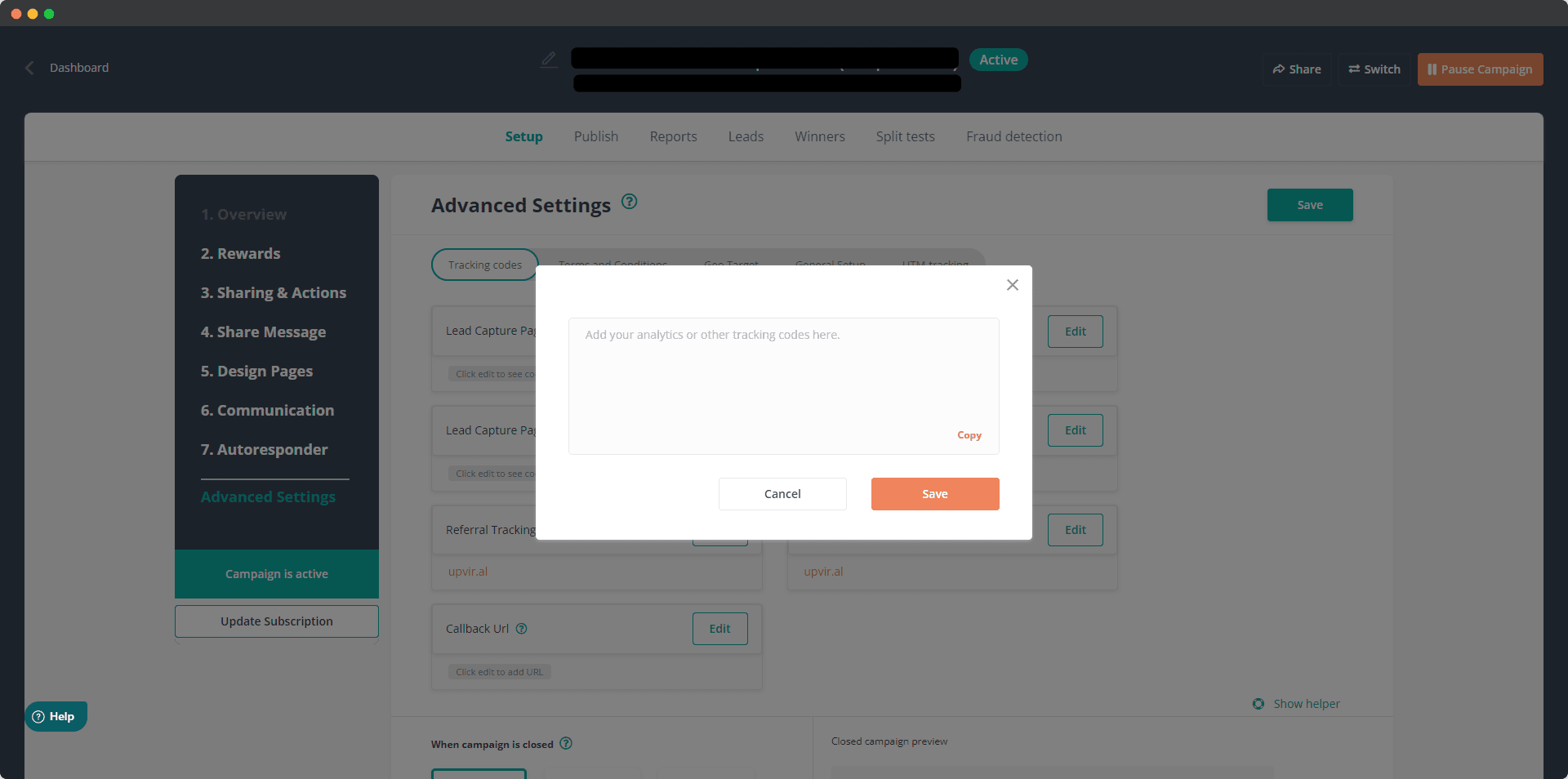 This helps to track the users who have already been on your website and can be retargeted with any other marketing campaign.
Not only this, Upviral is not putting any limit on the account level.
We are free to add as many tracking scripts as possible and can be added on campaign level.
---
Send Tags To Autoresponder And CRM
UpViral has a feature to send tags for the email autoresponder and CRM.
You can add any tag you want in your Upviral account and can be used on every campaign that is being triggered by this particular user.
This will help businesses to track their users better and can be used to personalize the email template.
I personally use this feature for sending tags to my email autoresponder and I am able to track all of the users who have been on website with the relevant tag.
This way I can personalize the email template and give them a better experience.
---
A/B Split Test In Giveaway
UpViral has a feature to run AB split test on any campaign for both landing pages and share/confirmation pages hosted on upviral only.
This is one of the best features that I personally use and have been able to increase my conversion rate in the campaigns.
This is a great feature that helps you in split test of your campaigns performance and find out which of them are working best for your business.
In UpViral, you can create the variations based on different headlines, different content, different CTA, different colors or completely different landing pages to see what's performing best and then you can make the best performing as winner.
---
Fraud Detection of Subscribers
On your website, UpViral includes a feature that can track dishonest behavior.
When you create campaigns with big reward then many fraud people drive massive fake traffic on their unique referral link.
It may seems nice to see the huge traffic and more leads but getting fake traffic and fake sign ups in your referral marketing campaign can distroy your marketing efforts.
That is the reason of this core feature fraud detection system I personally love and it has been helping to protect my business away from frauds.
Regardless on their IP address, browser type, or country they are, I can create the rules for any campaign. I can set the IP address to be blacklisted and I can also create a rule for countries.
This way I can track the IP address and location of any fraudulent user to make sure that they are not able to use my services.
---
UpViral Pop Up Widget
Many folks think to use the popup in place of using the simple form on own landing pages to capture more leads.
It's a good idea to reduce the low quality leads entering into the funnel.
And UpViral covered you with allowing to add a popup on button click and link on text.
Isn't it really amazing!
With this, you don't need any other popup builder to use for capturing your leads.
I personally like to use popup builder for the simple reason that it's easy and fast.
But if you want a more advanced one, UpViral is your best choice!
UpViral Pop Up Builder is easy to use and it doesn't require any coding skills.
You can easily create a pop up using their drag & drop editor and you will be able to launch your pop ups in a few minutes.
UpViral Pop Up Builder is a very powerful tool and it has many features that you can use for your popup builder.
---
UpViral Campaign Sharing Through URL
Campaign sharing with in the upviral accounts is the another best way to make more money using upviral.
Just imagine, you will get a link of one of my winning campaign which you can import directly into your upviral account, and boom…
You just need to update the content according to your brand and need of the campaign.
And you are ready to launch the campaign with in a few minutes.
You can share or sell your campaigns to anyone who has active upviral account and it's really a great feature upviral launched in Q2 2021.
---
UpViral Integrations
One thing, in the world of technology, integrations are the most important part of innovations and UpViral is no exception to it.
UpViral provides you with the ability to integrate your app or website with their referral marketing platform by using API Integration.
You can use Upviral API integration for integrating upviral into any of your apps and websites which are compatible in terms of API.
And not only open API is there but UpViral has a lot of native integrations too which doesn't need any effort to build the integrations.
It's very simple and by adding your other application access details, you are good to go with it.
Isn't that awesome if you can achieve this in less than 2 minutes only!
I am mentioning the list of all online marketing applications where upviral integrates easily-
---
UpViral Pricing
UpViral has a very simple and easy to use pricing plans, they have different plans for the users.
You can choose your plan according to your needs.
The Plans are-
All the plans have it's own advantage but the most important thing is to choose the right plan for your needs.
To understand which pricing plan of UpViral is perfectly suitable for your business, read this article – UpViral Pricing
For example, if you are a startup, then Starter Plan is perfect for you and don't have any budget limitations.
And if you need more features than that of starter plan then go with Business or Premium Plans which will give you more features.
So, the best option is to choose Starter Plan and upgrade it as per your needs but don't go for premium plan if you are not sure about what's in there.
Upviral offers 14 days trial period in just $1 to test everything you imagine with upviral.
And there are hundreds of people who made decent ROI with in the 14 days of trial period.
If you have long term planning using viral marketing then you should plan yearly subscription too (but remember, it's yearly commitment).
Upviral monthly plan are-
And if you want to save more and have enough planning to execute for entire year, then you can get additional 30% discount on yearly pricing like-
Let's discuss the plan benefits.
---
Starter Plan
Starter plan ($79/month) is for people who are just planning to start and understand how it can help to improve business ROI.
It includes following features-
---
Business Plan
Business plan ($119/month) is for people who are doing good and planning to scale the business with upviral.
It slightly expensive plan in comparison with starter plan but this is the best selling plan of upviral.
It includes-
---
Pro Plan
Pro plan ($299/month) is for professionals who works in the viral marketing niche.
If you are a freelancer or an agency owner who is willing to offer your services to clients for upviral, then pro plan is good to consider.
It has following benefits-
---
UpViral Money-Back Guarantee
UpViral offers 14 days trial period for just $1 to test everything you could imagine with upvrial.
And if after that time, you are not satisfied then they will ask for refund and provide 30 days money back guarantee.
And there is no need to worry about refunds because they are very reliable and fair in their refund policy.
---
UpViral Pros And Cons
Everything has two sides.
One is good and another one is bad.
UpViral also has some pros and cons which I am listing below-
Pros
Split test
Custom domain
Double opt-in
Email notification
Fraud detection
Country level restriction
One-click signup link
API
Webhook
Native integration with all major email marketing softwares
Option to add third party tracking script
Allow to embed the widget on your website
Unlimited visitors
Unlimited Campaigns
Automated winner selection
Smart leaderboard
Mobile optimized
In-depth analytics
UTM tracking
Custom actions
Free SSL certificate
Amazing customer support
Cons
No built-in CRM
Limited Customization Options
---
UpViral Tutorials
UpViral gives a lot of bonuses as educational content for FREE to upviral users so that the users can make their referral marketing campaign successful.
The tutorials are from experts who have worked with upviral before and also gives you a step by step guide to easily create viral competitions for your business.
With help of upviral tutorials, I have done many successful campaigns using upviral.
It includes the topic such as how to start with upviral, viral marketing hack, contest promotion ideas, done for you templates, referral marketing strategies, email marketing tips, case studies and many more…
The Upviral blog section is a great place for you to find the best articles from upviral experts. You can also read their latest posts, news and tips there.
---
UpViral Competitors
Technology has competition on every next day and so is UpViral too.
UpViral is not alone a viral marketing software out there in the industry.
And every viral marketing software has it's own benefits and losses.
Here I am mentioning the most close 4 competitiors of UpViral.
Vyper
According to me, Vyper has a lot of similarities like UpViral but it has other benefits too.
Vyper works amazing for social media giveaways.
The only thing which I don't like about vyper is, they don't have any open/close API.
It means, we can't actually perform any API based action into vyper but they have webhook option which helps to get the data on webhook URL whenever any participant join the viral contests.
I will cover a detailed review of vyper in a dedicated blog post soon 🙂
---
Viral-loops
Viral loops is growing very fast in the viral marketing software niche because they have amazing features.
Using viral loops, we can create contest within facebook messenger chatbot (using manychat), ambassador program for customers on shopify, milestone based reward campaign, prelaunch campaign and many more.
Viral loops also has powerful open API and it also has a lot of native integrations too which makes it very competitive with upviral.
But within the viral loops, we can't create any custom campaign and they don't have any option for us to allow the custom actions inside the campaign.
That's the limitation they have in viral loops.
will cover a detailed review of viral loops in a dedicated blog post soon 🙂
---
Gleam
Gleam is the world's biggest viral marketing software company.
It started in April 2013 with very basic idea of viral campaigns and referral marketing.
But then they started growing fast.
Gleam took almost 4 months to get the first 100 customers but they already crossed 1 million customers till december 2017.
Gleam recorded over 2 billion social actions passed till december 2018.
We know that it's actually a huge milestore which has crossed by gleam.
Undoubtedly gleam is the largest company out there with tons of features and great customer support but they doesn't match all the features of upviral.
And both softwares work in a different way to organise contest or referral campaigns.
I will cover a detailed review of gleam in a dedicated blog post soon 🙂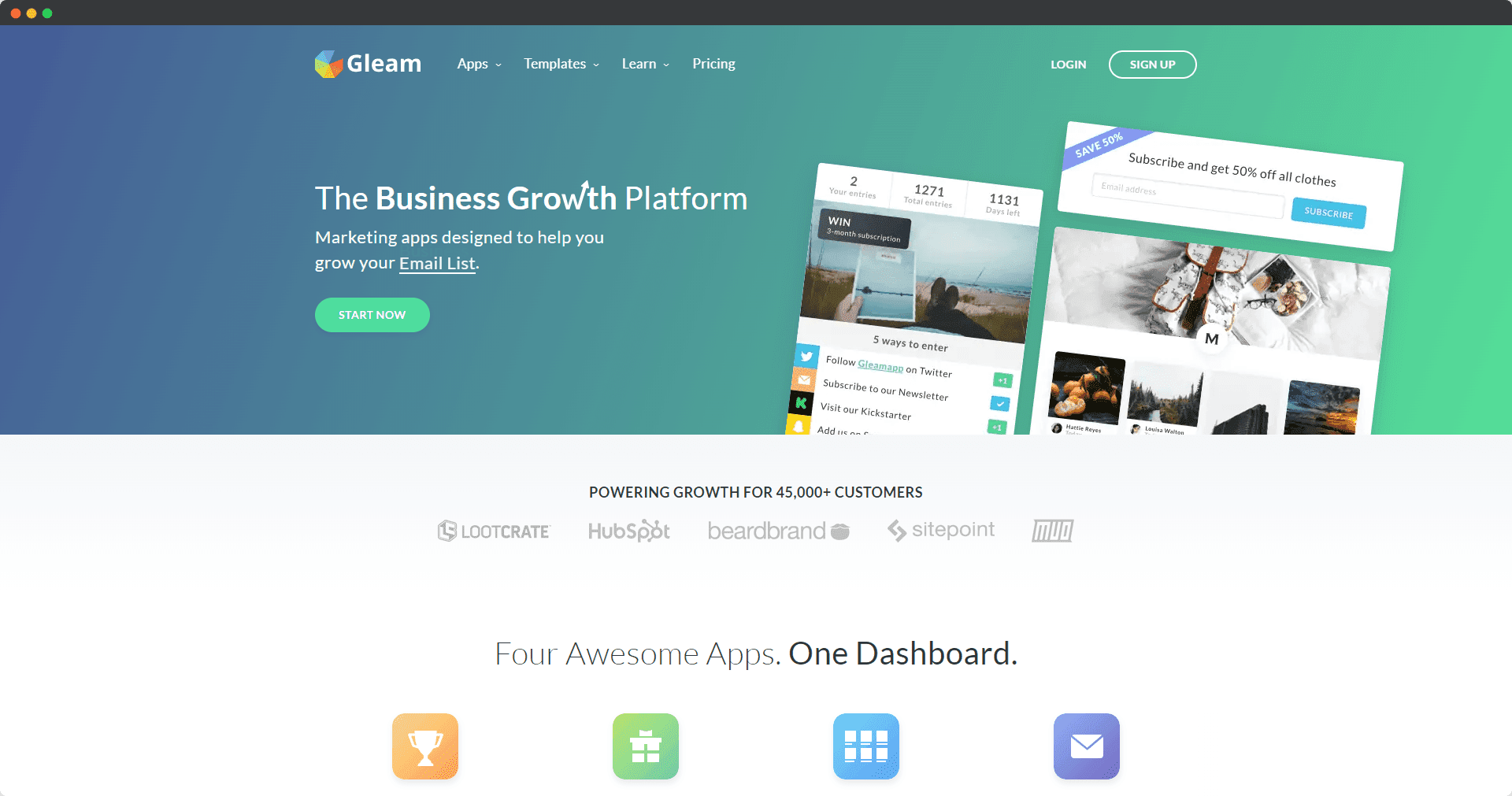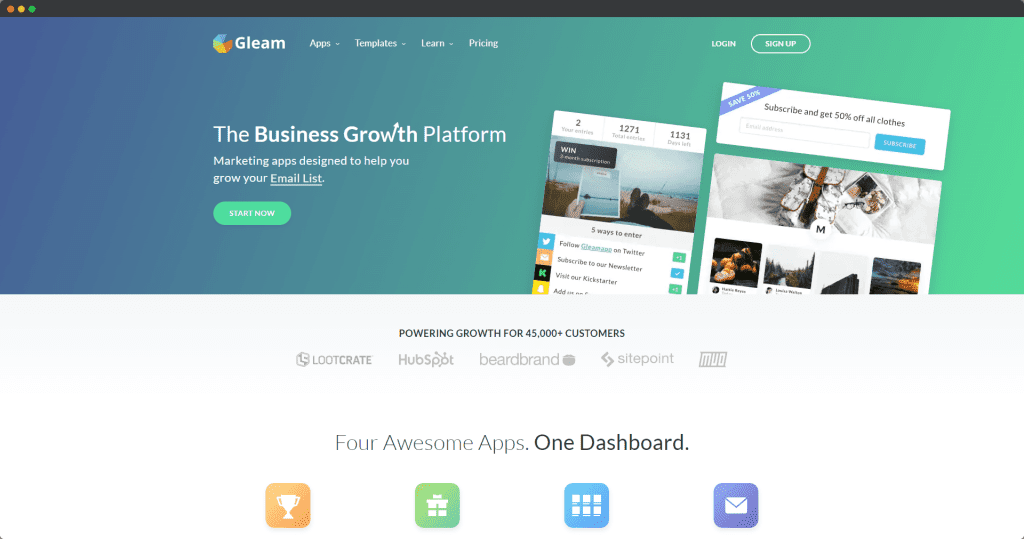 ---
PerkZilla
PerkZilla came into this market in 2018 and they are developing some cool features.
They have a lot of similarities of upviral, vyper and viral loops but they still lack with core features of viral marketing industry standard.
I personally never used perkzilla but I saw this referral marketing platform, watched the videos (official) and read the customers feedback.
And based on my personal understanding and wisdom, I got to know that UpViral is far away from the point where perkzilla is right now.
Perkzilla could become a great software in near future for viral marketing.
---
UpViral Testimonials
UpViral already helped over 25000 businesses to grow up with viral marketing campaigns using upviral.
And UpViral is one of the best viral marketing software which helps you to grow up.
Let's see the testimonials of upviral users who got great success through upviralp-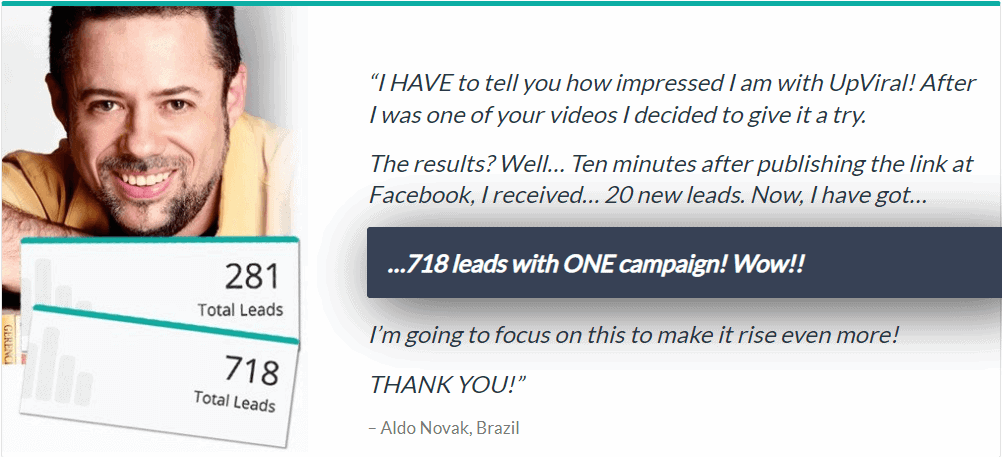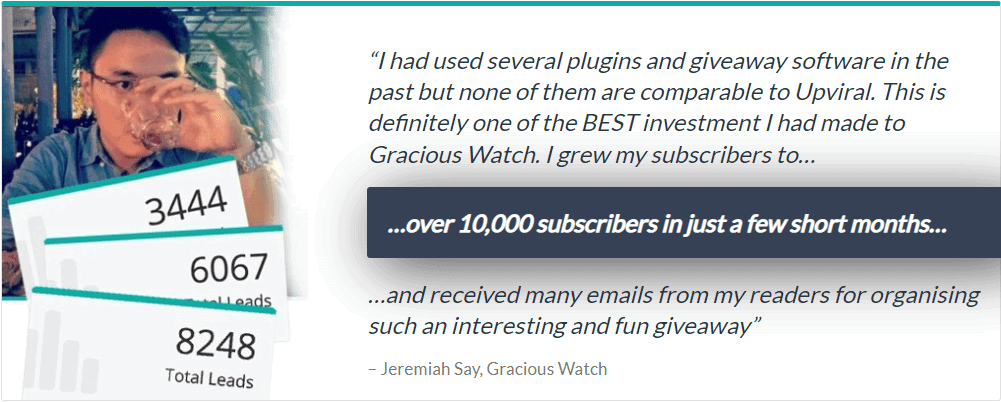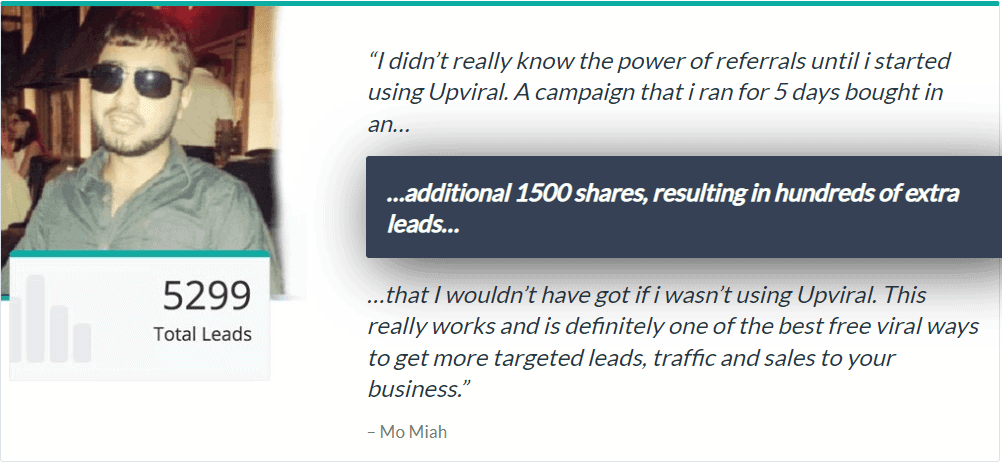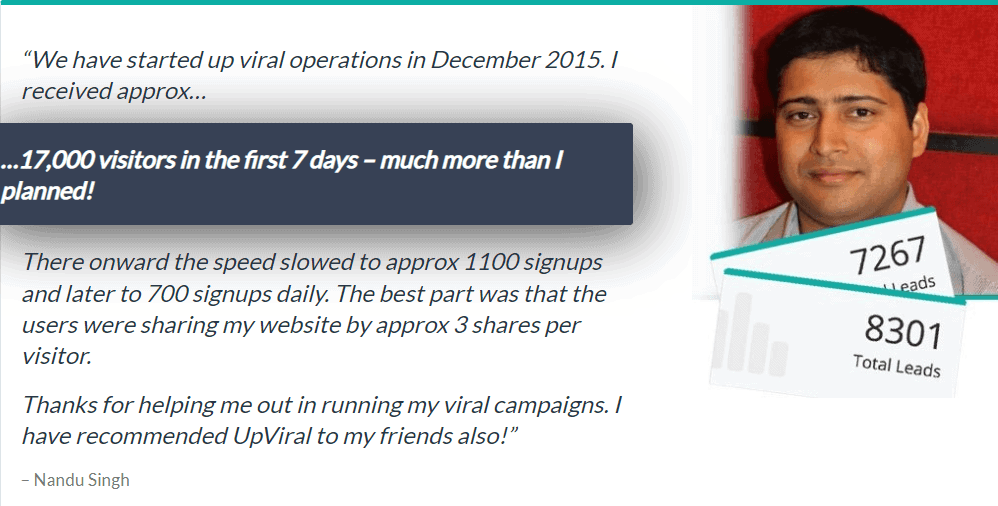 I am sure you are impressed and inspired from all these testimonials of upviral users and you are planning to become the next success story of upviral.
It's right time to start using upviral for your business.
---
UpViral Success Stories
You must be surprise to know that upviral has a lot of success stories every month. Because they help their customers a lot to achieve what they want with upviral.
And upviral has hundreds of inspiring success stories to show on the internet.
I am adding a few great success stories videos below to help you understand how they did it.
I am one of the upviral active user and I also got the success in my few viral marketing campaigns. After achieving success, I got the opportunity to share my experience in upviral co-pilot show.
Watch the video to see how I did that.
Upviral published about my case study on their official Facebook page too.
I am sure you are pumped up now to see the potential of upviral for viral marketing campaign.
It's time to write your success story using upviral.
---
UpViral Support
UpViral has a very good support team and they are always ready to help you.
They have quick response time and provide full guidance on how to use upviral features in your business.
They are also available to help you with your upviral issues and queries.
They have active community for people who want to share their experience, suggestions or ask questions related to UpViral.
To reach out to support, either you can drop and email on support@upviral.com or can contact through the support widget inside the account dashboard.
UpViral also provides free training videos and PDF guides in the learning center for their users.
And these amazing content helps a lot to use upviral effectively.
---
UpViral Co-Pilot Show
UpViral believes in mutual growth and they are doing everything they can do to help upviral users for success.
And to extend this thought, they started a weekly live session knows as UpViral Co-Pilot Show.
It doesn't matter if you are upviral user or not but to learn from the experts, you can join it because it's 100% free for everyone.
The experts talk about how to use upviral and what are the benefits that you can get from it.
They also answer questions regarding upviral, product features, Facebook ads tips, email marketing, business and many other topics.
Not only this, the experts review the upviral campaign live and suggest where you should improve to get great results using upviral.
---
UpViral Affiliate Program (Referral)
Most of the amazing businesses offers opportunity to make money together and it's knows as affiliate or referral program.
It also offers the affiliate program and it's open for all.
They use paykickstart to track the affiliate performance and tracking.
For the first transaction, they give 50% affiliate commission and 30% affiliate commission from second transaction and it goes till the customer pays to upviral.
So, if you are willing to make money with your business and want to grow it then go through their affiliate program.
---
UpViral Roadmap
Roadmap is the most important thing to consider before buying any subscription because it helps to understand wheather they are growing or not.
UpViral has a very good roadmap which shows that they are working on different features and you can see the progress of each feature.
To check the roadmap, you can go to the URL https://features.upviral.com/ and you will see where they are working.
---
Verdict on UpViral Review
Alright — I think we've covered all there is to discuss about UpViral Review.
If you're still undecided, here are my ratings for UpViral when it comes to key factors:

Thanks to UpViral's nice user friendly interface, new users can get productive with the software right away.
The learning curve is virtually non-existent, and this referral marketing platform itself is fast and intuitive.
To launch your first campaign, you can easily do it with in 5 minutes only with the latest campaign launch feature for newbies.
Usability: 5 Stars
Is the UpViral reliable? Yes.
Is it one of the best viral marketing software money can buy? No.
If you will overlook at the list of upviral's feature, you may feel that it's not enough for your business and you need more in exchange of what you are paying to upviral.
But the reality is completely different.
The features shows it's value only if you will start using them in your business with upviral campaing.
UpViral already has 100+ super amazing features to match the industry standards of viral marketing niche.
But I can't ignore the fact that it still needs improvement to become the best in the industry.
There is still a big scope to add many more features inside upviral to make the life easier and help businesses more effectively.
Features: 4 Stars
You don't see a lot of viral marketing tools with their own local system based app.
UpViral can easily work with Google Chrome, Mozilla Firefox, Safari and many more internet browsers.
And it's 100% mobile optimized.
If that level of accessibility isn't worth five stars, then nothing is.
Accessibility: 5 Stars
You are getting a viral marketing software, referral links manager, lead generation software, landing pages builder, email verification (double opt-in) and many more awesome features rolled into one — it's well worth $49/month for starter plan. UpViral pricing plan is offering an amazing discount on yearly pricing.
If you need UpViral for the long-term, you can cut the monthly cost with yearly discounted deal.
Pricing: 5 Stars

My final recommendation?
Get UpViral business plan if you have the requirement for regular uses including the webhook, open API.
It's everything you want a viral marketing software to be including the power of creating unique referral links for each user instantly.
You don't have to take my word for it.
Go — use the UpViral business plan and see for yourself.
If you think you don't need it, then you can ask for a refund in 30 days from the date of purchase.
---
Conclusion
UpViral is a very good product which helps you to grow your business.
It's not only for big and established business only, it can be used for small businesses too.
It's easy, simple and user-friendly so you can use it without any problem.
They have amazing features like auto fraud detection, coupon delivery system, create unique referral links and many other things that help the users to get more sales from their website.
With upviral, you can setup viral giveaways campaign where people can win the rewards from your business/brand whenever they hit a milestone.
Viral contests are a powerful strategy to grow email list, social media followers and sales.
Upviral has powerful features to make your viral contests successful.
If you are a product owner and planning to launch it in online market, then upviral is the best option to get and start promotion of your product with early access campaign strategy.
Many businesses already did it and got great success.
Now it's time for you to make best out of this early access campaign strategy/
If you are looking for a product which can help you to grow your business then go through this review and buy the best subscription.
---
Frequently Asked Question on UpViral
How much does UpViral cost?
UpViral offers 14 days trial for just $1 and then $49/month for starter, $79/month for business and $199/month for pro plan.
Is it really worth it?
Undoubtedly YES. You should plan your idea before buying upviral subscription and then get upviral for first 14 days at $1 only to calculate how much you can make by paying for first 14 days only.
Is there any evidence that UpViral Review works as advertised?
Yes. You can check upviral case studies, attend co-pilot show to see how they made it using upviral.
How to cancel upviral service?
You can reach out to upviral support from user dashboard or can drop an email on support@upviral.com from registered email address to cancel your upviral account subscription.
Can I use upviral for more than one website?
Upviral offers unlimited campaigns in all the plans and each campaign can be used with one domain to embed the campaign widget.
For more details, I would recommend to read upviral knowledgebase.
You might also be interested in…