Are you curious to know about the pabbly connect pricing plans?
And which plan is perfectly suitable for your business to setup workflow automation?
Then you've arrived at the right place.
I can completely understand your curiosity because having an automation tool like pabbly connect in your business toolset is really important part of your growing business.
Because there is a huge demand of automation tools like pabbly connect.
And the reason is simple.
Everyone wants to automate the online business manual task to improve the performance in available limited time.
Especially when you don't need to take stress of who will handle the data automation workflow in your business for day and night, even on public holidays.
Being a person without having coding or development skills, it's not that much easy to setup automation in running business.
And at this point, integration platform like pabbly connect come into the picture as it helps you to setup limitless number of automation workflows faster than ever before without learning any coding or development skill.
With pabbly connect you can easily automate a lot of manual tasks in your online business without hiring any professional.
No matter in which kind of online business you are but pabbly connect is perfectly made for all online business automation tasks.
Let's dive in-
What is Pabbly Connect?
Pabbly Connect is a saas that helps you to setup integration between several external applications while maintaining data workflow automation smoothly for online business and startups by lowering manual efforts.
When I say that we'll create automation workflows, it simply implies that you don't have to worry about hiring anyone for this job.
Even the software, which is reliable, helps to reduce the involvement of humans in automation and performs so smoothly.
If you handle data workflow manually, not only will it be a time-killing process but also a tiring one for the programmer.
Pabbly connect, on the other hand, provides automation with a viable and easy way for online businesses to exclude human efforts.
When you are running an internet business or startup, it does not require any technical experience, so anyone can use this tool easily without confronting any complexity issues.
So, one of the main goals of setting up your very successful online business remains to get a manageable control over the complete backend, and Pabbly connect is the best option for you.
To know detailed overview, you must read pabbly connect review.
Benefits of Using Pabbly Connect
If you can understand and calculate the value of your time, you will save by using pabbly connect everyday then I am sure you won't be able to calculate it because it's priceless.
Consider 2 examples-
Both examples are more than enough to explain how much time it could consume if you will do it regularly.
But if you will start using pabbly connect today, you only need to invest less than 10 minutes in setting up the automation and then not a single second to look for both tasks.
Let's have a quick look on common benefits of pabbly connect-
Pabbly Connect Pricing
As you know this blog post is all about the pabbly connect pricing plans and which plan would be perfectly suitable for your business needs to achieve growth faster.
Every plan has the limit of "TASK".
So let's understand how task calculated inside pabbly connect
Now let's have a look at the different plans available under pabbly connect.
Pabbly Connect Monthly Pricing
As you can see in the above pricing plan of pabbly connect, it has free forever plan of 100 task limit every month.
Then the standard pricing starts from $19/month for 12,000 tasks limit.
In majority of the startups and onliness businesses, this standard pricing plan is enough.
And you won't able to guess how many hours you can save everyday with the spend of only $19 in a month.
If you think your business needs more task, then you can get the bigger plans too which already mentioned.
Pabbly Connect Yearly Pricing
After using pabbly connect free account or paid plan for at least one month, if you think it's worth the investment and think you need to continue using pabbly connect service for longer future and has enough time of knowledge about automation then go for the full year plan.
This one year pricing will give you additional 30% discount on the regular monthly plan.
It simply mean that the stand plan of pabbly connect will cost you only $13/month if you will pay for a year.
If you want to increase the discount by 40% then simply go with the 2 years of plan.
And the highest discount is 50% when you will go with 3 years of pricing.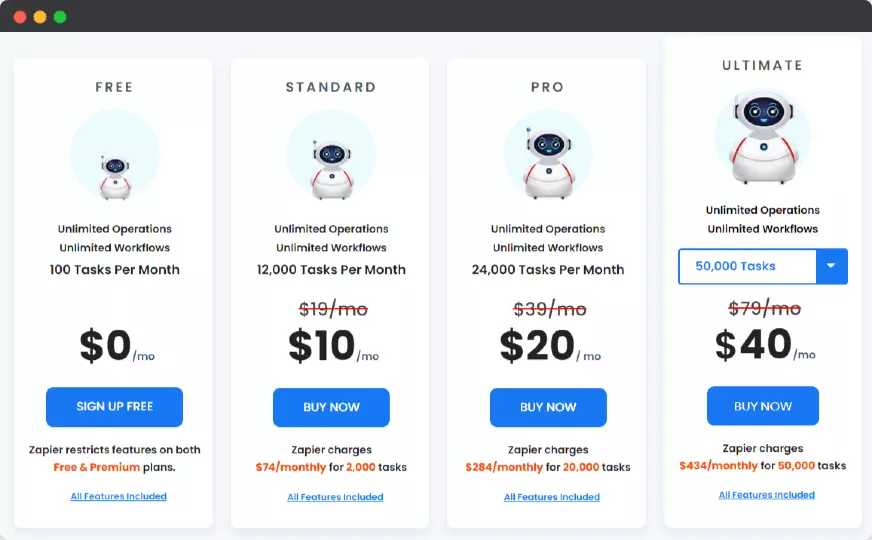 Pabbly Connect Lifetime Deal
After using pabbly connect for your business automation task, I am sure you would think how to save more on pabbly connect subscription.
Well pabbly connect is available at one time price only.
And it's really cheaper in comparison with any other competitor in the same market.
As you can see in the above pabbly connect lifetime deal pricing, it starts from $149 only.
Once you will grab it, you don't need to pay a single panny again for using the software untill the existance of pabbly connect.
Isn't it an amazing deal!
I would highly recommend to read how you can grab pabbly connect lifetime deal at best price.
Which Plan of Pabbly Connect You Should Get
Pabbly conect is offering three paid plans in monthly, yearly and lifetime subscription.
All the plans have been created for different different businesses.
Standard plan is for newbies and solopreneurs who are just starting the workflow automation in the business to automate the manual tasks.
Pro plan is for the businesses or startups which started and running good. It includes 24,000 tasks every month and it's perfectly suitable for running online businesses.
Ultimate plan is for influencers, growing businesses, companies and agencies who are expanding the business or doing it on large scale.
If you think you should just start using pabbly connect and then based on experience you should take the decision to upgrade or downgrade then it's completely fine.
You can upgrade or downgrade the subscription anytime according to your business needs.
Pabbly Connect Money Back Guarantee
Pabbly connect subscription offer 100% money back guarantee.
So, if you are not satisfied in any way then you can easily take a refund in the first 30 days.
It's such amazing deal that I highly recommend everyone to try this software for complete automation and easy workflow management of your business.
Absolutely a must have for online businesses and solopreneurs!
Final Thoughts on Pabbly Connect Pricing
If you're looking for an amazing way to automate your business, Pabbly Connect is the perfect tool.
With three different paid plans, there's definitely one that fits your needs.
Plus, their 100% money back guarantee ensures that you can't lose if you don't love the software.
If you're ready to take your business to the next level, be sure to check out Pabbly Connect!
If you found this post helpful then please share it with your friends.
And if you want to ask or share something, please feel free to write in the comment.
Frequently Asked Questions
Does Pabbly Connect have a free trial period?
Pabbly Connect offers a free forever plan with limited task and features for every month.
Can I pay for Pabbly Connect with a credit card or am I required to use PayPal as payment method?
Pabbly connect accept both payment methods.
How much does it cost to use Pabbly Connect?
If you are planning to get pabbly connect for long period, then you can get it at as low as $10/month or $149 for lifetime.
How is Pabbly Connect better than Zapier?
Undoubtedly yes. Because pabbly connect is 90% cheaper than zapier and it doesn't count triggers and all internal tasks happened with in the pabbly connect for unlimited times.