Though the concept of digital automation has been around for long, most of us are still unaware about the best way to automate our business using the automation platform.
Wondering which is the best automation platform to automate your business?
This article gives you a detailed comparison between Pabbly connect and Zapier.
You must be thinking which one is awesome in pabbly connect vs zapier comparison battle.
The key difference between these two platforms is not much actually because both automation tools are a lot similar in functionalities.
This blog post will help you decide which one is best for your business by providing in-depth comparison of these two platforms.
So let's dive in-
What is Pabbly Connect?
Pabbly Connect is a cloud based web app which gives you the ability to integrate multiple external application by managing the data workflow automation smoothly for online business and startups by reducing manual efforts.
Here when I am talking about create automated workflows, it simply mean that you don't need to worry about the hiring any professional of coding skill for managing this task.
Even this automation tool helps to reduce the involvement of human in automation and it does the job smoothly for business processes.
And if you are doing data workflow manually then not only it's going to be time consuming process but also a boring task for its programmer.
But pabbly connect makes the automation feasible and easy way process which used by online businesses and startups today to get rid from manual efforts.
It does not require any technical experience so anyone can use this tool easily without facing any complexity issues when you are running an internet business or startup.
So once of the main goal behind starting up your own successful online business is to have a manageable control over the complete backend, and Pabbly connect is the solution for you.
To know detailed overview, you must read pabbly connect review.
Pabby Connect Pricing
If pabbly connect is known for you before reading this article then you may already know that pabbly connect is far cheaper in comparison with zapier, make (formally integromat) and other expensive automation tools available in the market.
Pabbly connect is offering one free forever plan with limited features and three paid plans with different limits.
But here is a catch for you, if you are planning to save extra 50% off on the regular monthly pricing of pabbly connect then you must check out the three slabs of pabbly connect pricing.
Let's have look over monthly pricing-
One year pricing –
Two years pricing –
Three years pricing –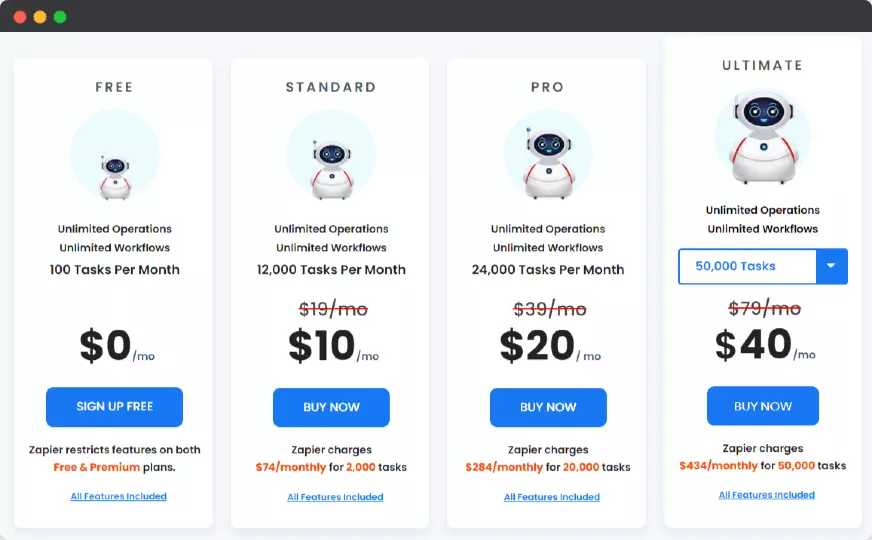 In the above pricing plans of pabbly connect, you must feel impressive discount on three years of pricing.
I highly recommend to go with the three years pricing subscription with ultimate plan if your business is running and you want to save huge money in your workflow automation.
One big advantage of pabbly connect is that its payment plans are very flexible and easy to manage in contrast with other automation software available today.
So if you want to save more money, please go for the three years pricing plan rather than one or two year optional free satisfaction program.
Pabbly Connect At One Time Price (No Monthly or Yearly Subscription Anymore) –
I am sure you will be happy to know that with pabbly connect lifetime deal, you can get rid of paying monthly/yearly subscription charges for your online business automation.
And it's forever.
Yes,
Check the pabbly connect lifetime deal pricing plans below-
Pabbly Connect Pros And Cons
Pros
800+ apps integrated
Super engaging public forum
All internal tasks are 100% free
Super affordable pricing plans
10+ Internal apps to make workflows more easier and better
Folders to organize the different automation workflows
Automation workflow can share from one account to another account as template
Feature of clone the workflow to save time for creating same from scratch
Duplicate the step in the workflow to save time
Mathematical operations can be done easily
Huge library of video tutorials
Company is open to listen feedback for improvement
Founders are very much responsive on social media
Cons
No live chat support
No autosave in workflows
No auto-retry for failed tasks
No carry forward of unused tasks
What is Zapier?
Zapier is a web-based application that helps users connect and automate tasks between different applications.
Zapier is the only platform which introduced the revolution of automation in the online businesses.
And zapier is the most famous online workflow automation software out there from all available in the market.
It started in 2011 with a few people only but now they have a big team of over 550 passionate employees.
Zapier app integration library has 4000+ super powerful integrations which is growing very fast.
Not only this but they have one of the super awesome customer support too.
Zapier Pricing
Zapier has one free forever plan with limited number of task and features.
And 4 different paid plans which named as starter, professional, team and company.
The basic and starting of zapier pricing you can check below-
Zapier Pros And Cons
Pros
4000+ apps integrated
Super powerful integrations
20+ Internal apps to make workflows more easier and better
Folders to organize the different automation workflows/zap
Feature of clone the zap to save time for creating same from scratch
Duplicate the step in the zap to save time
Mathematical operations can be done easily
Company is open to listen feedback for improvement
Built closed integrations with a few popular apps, so nobody is competitor for those apps to integrate
Millions of users acquired worldwide
Amazing and fast support
Cons
Internal tasks are not free
Unused tasks won't carry forward next month
Super expensive pricing plans
Less tutorials
Comparison : Pabbly Connect Vs Zapier
| Features | Pabbly Connect | Zapier |
| --- | --- | --- |
| Free Plan | ✔️ | ✔️ |
| Task Allowed In Free Plan | 100/Month | 100/Month |
| Webhook | ✔️ | ✔️ |
| Date & Time Formatter | ✔️ | ✔️ |
| Number Formatter | ✔️ | ✔️ |
| Extract Text By Pattern | ✔️ | ✔️ |
| Schedule/Delay | ✔️ | ✔️ |
| Text Formatter | ✔️ | ✔️ |
| Filter | ✔️ | ✔️ |
| Send Email | ❌ | ✔️ |
| Send SMS | ❌ | ✔️ |
| Native URL Shortner | ❌ | ✔️ |
| URL Encode/Decode | ✔️ | ✔️ |
| Math Operations | ✔️ | ✔️ |
| JSON Extractor | ✔️ | ✔️ |
| Email Parser | ✔️ | ✔️ |
| Currency Converter | ✔️ | ✔️ |
| Counters | ✔️ | ✔️ |
| Number Formatter | ✔️ | ✔️ |
| Chrome Extension | ❌ | ✔️ |
| Sub Workflow/Zap | ❌ | ✔️ |
| Translate | ❌ | ✔️ |
| App Status | ❌ | ✔️ |
| Looping | ❌ | ✔️ |
| Approval | ❌ | ✔️ |
| Starting Monthly Price | $19 For 12,000 Task | $19.99 For 750 Task |
| Yearly Discounted Plan | ✔️ | ❌ |
Final Thoughts on Pabbly Connect Vs Zapier
This is a complete comparison between Pabbly connect vs zapier to help you in selecting the best platform for your business.
And I tried to make this post very user-friendly and compare both platforms with top features which actually worked well on different automation purpose they are intended.
Zapier has more than 5x integrations in comparison with pabbly connect but keep in mind that pabbly connect is much cheaper and super affordable in comparison with zapier.
And based on my experience of using pabbly connect I would definitely recommend it to anyone who is looking for web-based automation software with amazing support team.
I hope this post will help you in choosing the best platform for your business which suits with your specific purpose and budget.
Please feel free to leave any comments or suggestion and follow our blog for latest updates.
Frequently Asked Questions
What are the benefits of using Pabbly Connect Vs Zapier?
1. Save a lot of money every month
2. Super engaging forum of users and expert
3. Tutorial library of 1000+ videos
4. All internal tasks are completely free
5. Most popular apps are already integrated