When it comes to the best automation wordpress plugins in 2023, there are not enough options available which are worth trying.
And if I talk about the really awesome in the wordpress automation plugins market, only a few solutions are there which are worth considering for the businesses.
You would be happy to know that FlowMattic is the best WordPress Automation plugin available in the market in comparison with any other competitor.
In the last couple of years, I tried a few wordpress automation plugins but there is absolutely no solution which works better or equal to the FlowMattic.
In this FlowMattic Review article, I will cover benefits, features, pricing, pros & cons, alternatives, tutorials and my honest opinion.
This review article will help you to decide if you should get the FlowMattic today or later.
So let's begin-
What is FlowMattic?
FlowMattic is an amazing workflow automation WordPress Plugin which helps to setup the workflows to reduce the involvement in repeatative task between different different applications.
If you have a WordPress website but still you are using any workflow automation software such as Zapier, Pabbly Connect, Integrately or KonnectzIT then I have a good news for you.
You can easily cancel the subscription of all of the mentioned workflow automation apps by using FlowMattic with in your WordPress website.
Isn't it good news for you!
Watch a quick demo of FlowMattic below
After watching this demo video, I am sure you are highly impressed with the power of FlowMattic and how simple it is to setup the workflows without hiring any professional or having coding skills.
Who Should Use FlowMattic?
Although FlowMattic is a WordPress plugin which can work with the WordPress websites only but anyone can use it to automate anything.
Considering you are using Shopify and Google sheets and wants to get the data of orders into your Google sheets without installing any app inside Shopify store.
Then you can simply install FlowMattic on any WordPress website or just install WordPress on any subdomain/test domain then setup the workflow in FlowMattic to catch the data from Shopify and send data to Google sheets.
So I can proudly say that FlowMattic is for everyone who just want to setup basic or complex workflow automations with simplicity.
The best advantages of FlowMattic can be taken by-
And many more…
Benefits of Using FlowMattic
There could be different benefits of FlowMattic for different types of users.
But let me cover the most common benefits below-
Where Should You Use FlowMattic?
FlowMattic is a WordPress automation plugin which can work in the WordPress website only.
But it doesn't mean that it doesn't have capabilities to setup automations with the applications which are not made on WordPress.
So you can use FlowMattic with your WordPress website to automate anything with in or out WordPress website.
For example, you can use it to send data into google sheets whenever any participant will unlock a reward in UpViral campaign.
In this process, FlowMattic will setup a route so that your automation will work smoothly.
Another possibility could be-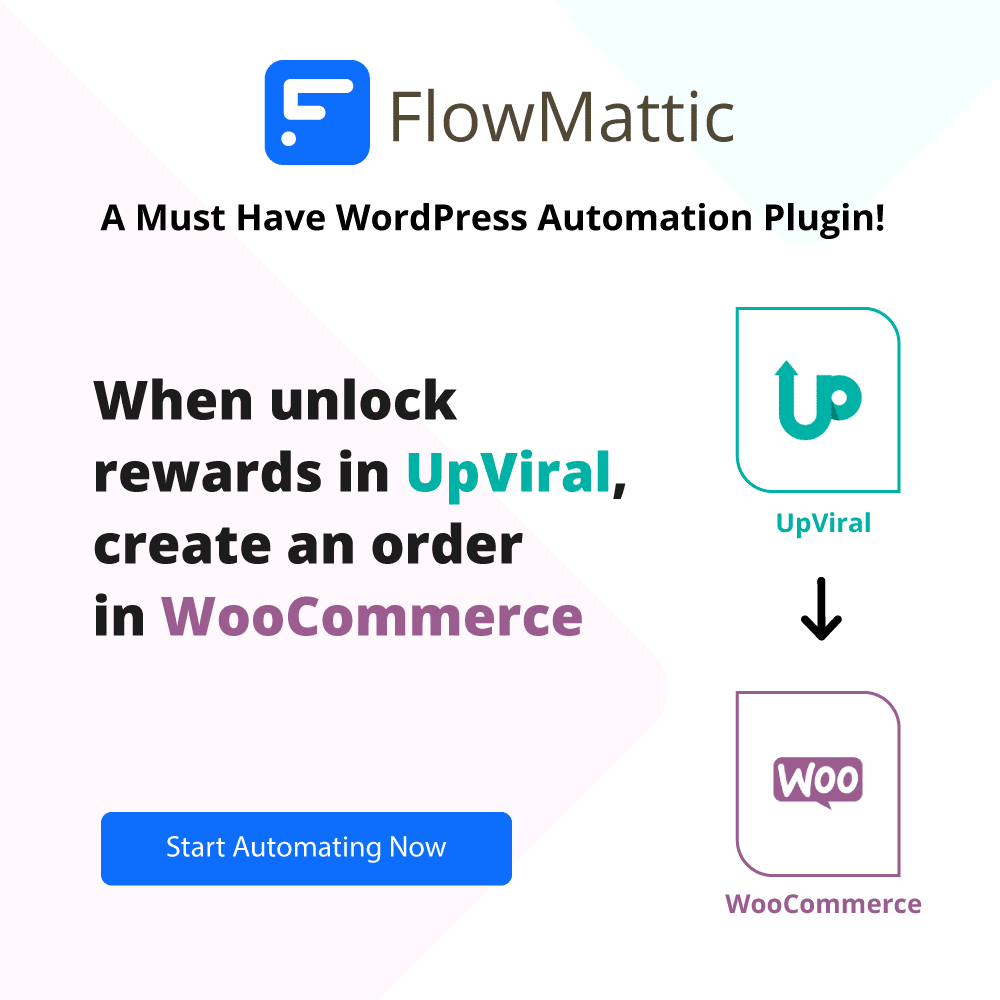 So all those places where you can get the data and to post the data (with or without formatting) to any app integrated in FlowMattic or have public API, can be used with FlowMattic to save time.
It can help to improve the productivity from the time you will start using it.
FlowMattic Features
FlowMattic is growing very fast since the day it launched publicly.
It already acquired hundreds of clients (including agency owners) which helped to shape the product much better.
I am listing down all the important features of FlowMattic below-
FlowMattic Integrations
FlowMattic WordPress plugin has built the powerful integrations with 110+ apps with in a few months only.
The integration library includes a lot of popular applications including-
And many more…
Not only the above mentioned apps but FlowMattic integration library is growing rapidly and it's getting more powerful every next day.
FlowMattic Pricing
Flow Mattic pricing plans are very much affordable and simple.
Unlikly other workflow automation softwares, it doesn't ask you to pay for every month or based on the number of tasks you consume in various automations or the number of steps in your workflow.
Let's see the FlowMattic pricing plans below-
| Features | Personal | Developer | Business | Unlimited |
| --- | --- | --- | --- | --- |
| No. of Websites | 2 | 5 | 25 | Unlimited |
| Support | 1 Year | 1 Year | 1 Year | 1 Year |
| Updates For Core Plugin | 1 Year | 1 Year | 1 Year | 1 Year |
| Updates For Integrations | 1 Year | 1 Year | 1 Year | 1 Year |
| Access To All Integrations | ✅ | ✅ | ✅ | ✅ |
| Access To All Features | ✅ | ✅ | ✅ | ✅ |
| Facebook Community Access | ✅ | ✅ | ✅ | ✅ |
| Customer Support | ✅ | ✅ | ✅ | ✅ |
| Tutorial Access | ✅ | ✅ | ✅ | ✅ |
| Pricing | $99/year | $169/year | $249/year | $349/year |
FlowMattic Pros And Cons
Pros
Super easy, neat and clean user interface
Completely beginner friendly
Fastest growing WordPress Automation Plugin
110+ super powerful integrations
Access To Facebook Group
Folders
Invite user to manage workflow
No limit on number of integrations
No limit on number of workflow automations
No limit on automation lenght
No limit on number of task execution
Clone the workflow
Clone the step in between the workflow
Task history
Notification on failed task execution
Text Formatter
Iterator
Router
Filter
Mathematical operations
Schedule
Delay
Email parser
Very light weighted WordPress plugin
FlowMattic Alternatives
There are only a few WordPress plugins which works in the same way for automations.
And I can't say all of them are perfect FlowMattic alternatives because all of them doesn't have even half features of FlowMattic.
But I found a few great plugins which works good to automate from WordPress.
Uncanny Automator
Uncanny Automation has good user interface and almost equal number of integrations.
It's older than FlowMattic and have a lot of powerful features.
But when it comes to routers, email parser and similar powerful features then FlowMattic will win the game.
If you want to try something simpler than FlowMattic (it's also simple) then give it a try.
Automator WP
Automator WP has nothing new and it looks almost similar to Uncanny Automator.
Even names has a common word "Automator".
Automator WP has 150+ integrations with great features and it's one of the popular WordPress automation plugin.
You can give it a try along with FlowMattic and can decide which one is better for your business.
Bit Integrations
Bit Integrations is a simple WordPress automation plugin which doesn't have complex features like FlowMattic or Uncanny Automator.
Developer of Bit Integrations said that they wants to keep it for simple usecases only and that's why they are focusing on simple and common features.
Bit Integrations is available on Appsumo for one time price only.
If you doesn't have any requirement for complex automations on large scale in future then you can try Bit Integrations.
FlowMattic Reviews
FlowMattic is an amazing WordPress plugin and you can read hundreds of reviews on capterra, G2, Trust Pilot etc.
Here I am listing only a few reviews which would show how good FlowMattic is-
FlowMattic Support
Customer support at FlowMattic is something I really like and appreciate because whenever there is any issue then I got amazing response and quick resolution from FlowMattic customer support.
They help in official Facebook group and with email support too.
If you are facing any issue with in FlowMattic then don't hezitate to drop an email to the support to get it fixed quickly.
FlowMattic Roadmap
Official roadmap of FlowMattic is growing very fast and you can see it in the attached image below-
Verdict on FlowMattic Review
Alright.
I think we've discussed almost everything about the FlowMattic review.
But if you are still undecided to try it, then here I am sharing my rating on a few key factors.
Usability
I really appreciate the hardwork of team FlowMattic because a completely new user can get productive with the plugin right away.
The learning curve in FlowMattic is virtually non-existent.
And the platform itself is light weighted, fast and intuitive.
Features
Undoubtedly FlowMattic has a lot of rich features including email parser, text formatter, routers, filters, schedule, delay, mathematical operations, run PHP functions etc.
There is no such plugin who have this much capabilities to help you run powerful automations with simplicity.
Accessibility
FlowMattic is a WordPress plugin and can run with in any WordPress website.
And once you've setup the workflow automation then you don't need to look every hour or every day.
It will run smoothly without any issue.
And if any changes needed then you can change it by login into your WordPress website from anywhere around the world.
How simple is that.
If this level of accessibility doesn't deserve 5 star rating the what it could be.
Pricing
FlowMattic don't put any limit on number of integrations, workflows, task execution or anything.
Unlikely Zapier, Pabbly connect, Integrately, SyncSpider, KonnectzIT all of them have limit on task execution.
In comparison with other similar WordPress plugin, nothing can match the simplicity and features as FlowMattic already developed to make automations more strong.
Even for only 1 website, it will cost you only $99/year for unlimited access to FlowMattic.
Isn't it so cheaper than anything?
I am sure you'll recover your investment back with in the first month only by setting up automations in your business.
My Final Recommendation
Best Choice
FlowMattic
Unlimited Integrations
Unlimited Task Executions
No limit on workflow length
Schedule, delay, filters, routers, email parser, PHP functions, mathematical operations
Simple, neat and clean user interface
Facebook group access
Super amazing customer support
Conclusion
The bottom line is, you can't go wrong with FlowMattic weather you are a freelancer, agency owner, consultent or independent business owner.
It is the most easy, innovative and flexible WordPress automation plugin on the planet till the time.
However if you are looking for just some basic automations and free options then FlowMattic shouldn't be your first choice.
But if you have a vision to grow fast then you shouldn't ignore FlowMattic anyhow.
Frequently Asked Questions
What is FlowMattic?
FlowMattic is a WordPress automation plugin which helps to setup and manage workflow automations with in the WordPress website without having any coding skill.
It's best self hosted Zapier Alternative.
Is FlowMattic Safe?
FlowMattic is 100% safe and authentic to use for business.
How Much Does FlowMattic Cost?
FlowMattic charge only $99/year for 1 website to access everything unlimited.