Is your product page conversion rate not impressive?
No surprise.
Are you tired of searching for the best solution to improve your conversion rate for increasing sales and profits???
I know it's YES and you must read this…!
Artboard Studio is launched as the easiest, flexible and comfortable online mockup creator tool.
In this Artboard Studio review, I'll help you determine if it's the right online mockup creator tool for you. We'll take a look at its features, interface, pricing, and a few competitors to make sure it's the right choice for your business.
What is Artboard Studio?
Artboard studio is an online mockup creator tool which helps business owners, freelancers, agency owners to get the 2D and 3D realistic product mockups to enhance the branding of the products in ecommerce business.
Artboard studio is not only made for image mockups but it also generate amazing video mockups too.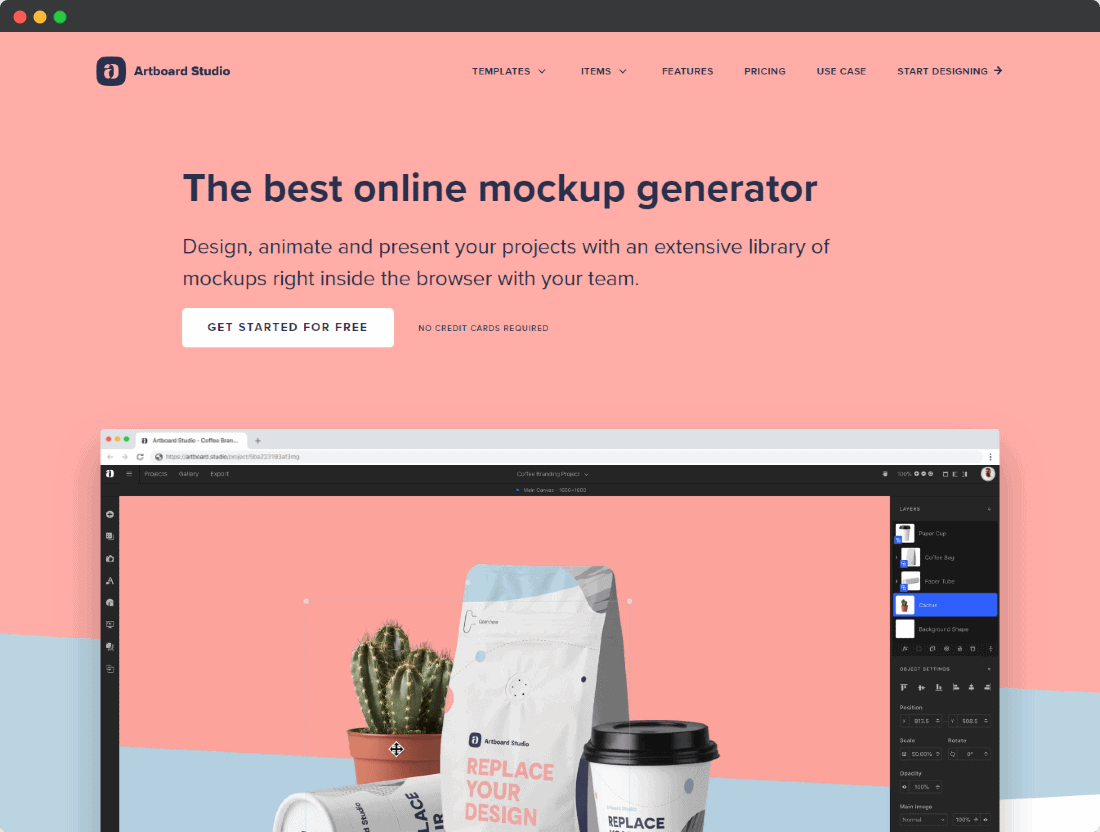 ---
Why You Should Use Artboard Studio?
The only problem is, even the most skilled designers out there doesn't take care of branding to improve the conversion rate of your ecommerce store.
If you're working on a product image and mockup creation project, you will overlook a few angles, color selections, size issues you must fix.
This is where a realistic 2D and 3D online mockup generator tool like Artboard Studio steps in.
Interested?
You should be because Artboard Studio's online mockup creating features are available for FREE ( limited features).
Experience Artboard Studio for FREE.
---
Artboard Studio Pricing
Artboard studio has 2 plans for users. First is free forever plan which is actually amazing and enough for any newbie or beginner.
Another is professional plan which is perfet for freelancers, agency owners and business owners.
Below you can check the artboard studio pricing plans.
If you have regular use of artboard studio software then I would recommend you to go for yealy plan because on yearly plan, the pricing will reduce from $15/month to $8.25/month only.
---
How To Use Artboard Studio
Artboard studio is especially made for non designers and hence it's grabbing the attention from the market because it has beatiful user friendly interface.
Here I am listing a few most common use cases of creating mockup online with artboard studio. If you need to know more information, please feel free to connect with artboard studio support or comment below this article. I will try my best to help you 🙂
So let's start-
Free Stationery And Branding Design Mockup Scene
---
Free Cookie Packaging Mockup Scene
---
Create Cosmetic Product Mockup Template
---
Create iPad Mockup For Procreate Painting
---
Create UI / UX Mockup With Your Figma Designs
---
Create Magazine Mockup Template
---
Create Packaging Mockup Template For Macarons
---
Coffee Branding And Packaging Mockup
---
Create And Edit Business Card Mockup Scene
---
Artboard Studio Tutorials
Every software has a small lurning curve whenever we start using. And if we get basic tutorials, then it helps to speed up the understanding with the software.
Artboard studio has a lot of functions to operate and below you can check a few amazing tutorials-
Send Your Designs To Mail Chimp From Artboard Studio
---
Import Your Figma Designs to Artboard Studio
---
Presentation Feature Of Artboard Studio
---
Artboard Studio plugin for Figma
---
Branding Components in Artboard Studio
---
Animation in Artboard Studio
---
Create packaging mockup
---
Create a team and share assets in Artboard Studio
---
Artboard Studio Roadmap
Artboard studio is adding a lot of items and templates frequently along with features improvement. But I didn't find any active public roadmap of artboard studio.
It doesn't mean they don't have a vision or planning for future developments. I am following artboard studio since past couple of months and found that they are very active on social media especially on instagram.
On artboard studio official instagram account, you can see all the content and updates they are bringing for the users and followers.
---
Verdict
Alright — I think we've discussed all there is to understand about Artboard Studio for creating realistic mockup online.
If you're still undecided, here are my ratings for Artboard Studio when it comes to key factors:

I really want to say big thanks to team Artboard Studio because they are super amazing in designing logics and understanding.
New users can get productive with the online mockup creator tool right away. The learning curve is virtually non-existent, and the platform itself is fast and intuitive.
Artboard Studio is one of the best online mockup creator software for all the non-designers out there.
Usability : 5 Star
In the world of mockup creating and designing tools, Artboard Studio is at the top in the competition. It's hard to think of an alternative that can match its effectiveness in providing easy to use features for avoiding poor quality product mockup issues.
Artboard Studio is also one of the very few online mockup creator tools that can help to understand quality concepts to your goals for improving your ROI.
Designing: 5 Stars
You won't be able to find a perfect online mockup creator tool with their own local system based application.
Artboard Studio can easily work with Google Chrome, Mozilla Firefox, Safari and many more internet browsers. If that level of accessibility isn't worth five stars, then nothing is.
Accessibility: 5 Stars
You are getting a 2D and 3D realistic mockup creator and designing tool and animated/video mockup creator rolled into one pack — it's well worth $15/month for professional plan. Artboard Studio pricing plan is offering an amazing discount on yearly pricing.
If you need Artboard Studio for the long-term, you can cut the monthly cost with an yearly discount deal.
Pricing: 5 Stars
Is the Artboard Studio 2D and 3D mockups reliable? Yes.
Is it the best online mockup creator tool money can buy? No.
If you already have Artboard Studio Professional Plan, then the unlimited access is definitely a big bonus for your everyday business. However, Artboard Studio shouldn't be your first option if you absolutely need a basic mockup creator software only.
Features: 5 Stars
My final recommendation?
Get Artboard Studio Professional Plan if you have the requirement for regular uses.
It's everything you want an online mockup creator and designing tool to be.
You don't have to take my word for it. Go — use the Artboard Studio Professional Plan and see for yourself. If you think you don't need it, then you can cancel your subscription anytime.
---
Conclusion
The bottom line is, you can't go wrong with Artboard Studio whether you're involed in any kind of online business. It is the most flexible and trustworthy 2D and 3D realistic online mockup creator tool on the planet.
If you want to compare artboard studio with some free alternatives available online, then you will never get the flexibility, features and quality anywhere.
Artboard studio will always be your first choice as soon as you will start using it in your business.
---
Frequently Asked Questions For Artboard Studio
Is artboard studio free?
Yes, Artboard Studio offers FREE FOREVER plan with limited features.
Is artboard studio good?
Undoubtedly yes. Artboard Studio is on the top in online mockup creator softwares.
What are other alternatives of artboard studio?
Although artboard studio is best in what it is made for but other alternatives such as Glorify App, PlaceIt both are worth trying.