Is Your Product Image Garbage?
No strange.
Are you tired of searching for the best solution in the industry???
I know it's YES and you must read this…!
Glorify App is launched as the easiest, flexible and comfortable designing tool.
In this Glorify review, I'll help you determine if it's the right tool for you. We'll take a look at its features, interface, pricing, and a few competitors to make sure it's the right choice.
What is Glorify App?
It doesn't matter if you're a student, teacher, drop shipper, amazon seller, e-com consultant or freelancer.
You need impeccable designing skills if you want to excel and succeed in your endeavors.
---
Why You Should Use Glorify App?
The only problem is, even the most skilled designers out there make mistakes. If you're working on a product image creation project, you will overlook a few angles, color selections, size issues you must fix.
This is where a graphics designing tool like Glorify steps in.
Interested?
You should be because Glorify's design features are available for FREE ( free forever plan).
---
Glorify Pricing
Before we look at Glorify's features, let's deal with the panther in the room.
A lot of you are probably wondering if Glorify App can be used for free.
That's completely understandable.
Unless you have bottomless pockets, you need to make every dollar count.
You can't afford to splurge on every premium designing tool you come across.
The true fact is, Glorify App comes with a free option but with limited features you need to polish your designing skills.
It doesn't mean that it wouldn't come for regular use cases in the trial plan but as of now Glorify App is offering Lifetime Discount on pro plan.
But if you decide to buy with a lifetime discount then you can also use Glorify's features for as many times as you want without thinking about any additional charges every month.
Let's have a quick view on the difference in features of both the plans.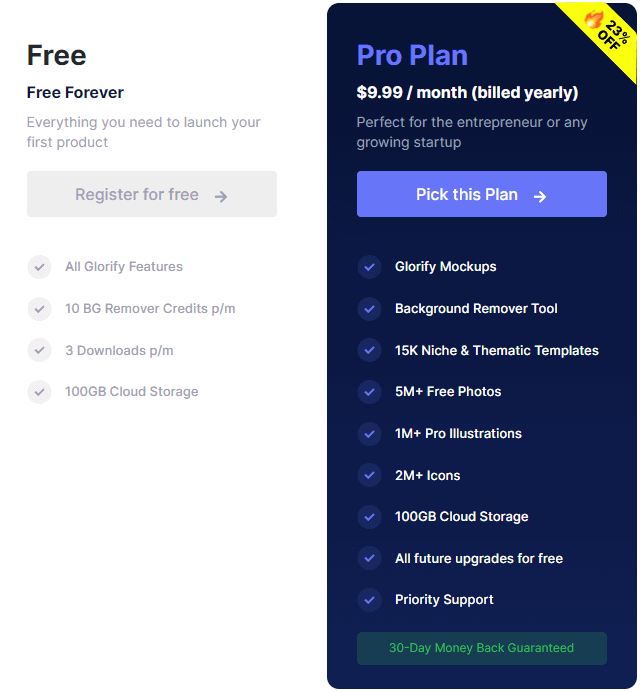 Now you can easily compare the plans Glorify Free and Glorify Pro.
Here I want to clarify one thing about the background remover or background eraser feature of the Glorify App.
In Pro plan Glorify App will give 100 credits per month.
And in the free plan, there is only 10 credits per month.
As I got to know, 100 credits per month for background remover feature is enough for anybody and none of the individual user can consumed all the 100 credits every month.
If you are happy enough for Glorify plan then you can check the lifetime discount deal here.
---
How To Use Glorify App?
To show you how Glorify App works, we need to talk about the many ways to use it.
The different ways to use Glorify App
As some of the best designing tools in the market, Glorify App can be used across multiple apps.
It can be:
Launch straight to there website
Integrate with Shopify (coming soon)
Integrate with WordPress library (coming soon)
Google Chrome extension to take and add screenshot into Glorify App account (coming soon)
Mockup generator like placeit
Ebook creation
Logo designing
Social media banners
Smart resize
Background remover (AI-Based)
Animated product images (coming soon)
Video templates (coming soon)
Glorify Web Interface
If you've read the post I've linked above, you should be already familiar with Glorify's web-based interface.
This can be accessed by logging into your account on Glorify's website.
Once you're in, you'll be directed to your "User dashboard" page where you can manage your designing tasks.
After upgrading your Glorify account into paid plan, your user dashboard would have icons8 options.
That indicates that you're ready to do some serious designing work.
So let's begin-
After logging into Glorify App, you will land on user dashboard screen which will look like
Whenever you will watch the video completely, you will get the basic idea to create your first design in the Glorify App.
With this basic idea, you can start creating the design you have in your mind. I know it's not easy to design awesome images quickly and even if you don't know anything about the designing.
But that's the main advantage with Glorify App because it's completely newbie-friendly and has tons of DFY (done for you) library templates which will help you enough to understand the designing ideas.
And the most important benefit of Glorify App is, the library is growing continuously.
And Glorify has launched a premium template library which is FREE forever for it's paid users only.
Let's have a quick look over the amazing features of Glorify App-
Shadows
Reflection
Smart Resize
Background Remover / Background Eraser
Blob Maker
---
Glorify App Tutorials
I know it's not as easy as it seems to learn a new tool and when it comes to the topic of designing, it's harder than our imagination.
But you can easily learn every feature of the Glorify App.
Here I am listing the video tutorials which would enough to learn this amazing designing tool.
---
Creating A New Design
---
Dashboard & My Files Guide
---
How To Add A Background
---
Using Shapes To Magnify Product Features
---
Using Dynamic Icons
---
Using The Annotate Tool
---
Create Realistic Mockup
---
Giving Realistic Reflection
---
Giving Natural Shadow
---
Adding Effects To Your Image
---
Logo Maker
---
Creating An Ebook
---
Instagram Story Ads
---
Smart Resize
---
Roadmap
Glorify app is growing every single day and it's also giving value to suggestions by users. Glorify roadmap is categories into 3 parts – Major Features, Small Features and Template Design. If you want to check the roadmap or thinking to give suggestions, then it would help more to Glorify. Check the roadmap here.
---
Verdict
Alright — I think we've covered all there is to discuss about Glorify.
If you're still undecided, here are my ratings for Glorify when it comes to key factors:
Thanks to Glorify's design, new users can get productive with the tool right away. The learning curve is virtually non-existent, and the platform itself is fast and intuitive.
Usability: 5 Stars
In the world of designing tools, Glorify is at the top of its class. It's hard to think of an alternative that can match its effectiveness in providing easy to use features for avoiding poor quality design issues.
Glorify is also one of the very few designing tools that can help to understand designing concepts to your goals.
Designing: 5 Stars
You don't see a lot of designing tools with their own local system based app.
Glorify can easily work with Google Chrome, Mozilla Firefox, Safari and many more. If that level of accessibility isn't worth five stars, then nothing is.
Accessibility: 5 Stars
You are getting a designing tool, background eraser, and mockup generator rolled into one — it's well worth $9.99/month for pro plan. Glorify pricing plan is offering an amazing discount on yearly pricing.
If you need Glorify App for the long-term, you can cut the monthly or yearly cost with a lifetime discount deal.
Pricing: 5 Stars
Is the Glorify background eraser reliable? Yes.
Is it the best background eraser tool money can buy? No.
If you already have Glorify Pro, then the background remover and icons8 is definitely a big bonus. However, Glorify shouldn't be your first option if you absolutely need a background eraser only.
Features: 5 Stars
My final recommendation?
Get Glorify paid plan if you have the requirement for regular uses.
It's everything you want a designing tool to be.
You don't have to take my word for it. Go — use the Glorify Pro and see for yourself. If you think you don't need it, then you can ask for a refund in 30 days from the date of purchase.
---
Conclusion
The bottom line is, you can't go wrong with Glorify whether you're a student, freelance designer, social media manager, dropshipper, amazon seller or a business owner. It is the most flexible and trustworthy designing tool on the planet — period.
If, however, you work for an educational institution and need a designing tool, Glorify shouldn't be your first choice. Other than that, it's undoubtedly one of the best designing tools available today.
Experience Glorify Today For FREE!
For questions, feedback, and suggestions, feel free to leave a comment below. I'm looking forward to your input!
---
Frequently Asked Questions
Does Glorify App Cost Money?
To access the premium features, glorify offers very much affordable paid plan.
Is Glorify App Good?
Undoubtedly YES. When you will start using it, you will understand how easy it is and how effective output you could get from it.
Is Glorify App Free?
Yes, Glorify App offers a limited free forever plan.
How Much Does Glorify App Cost?
Glorify App pro plan is available at only $9.99 per month (paid yearly).